Making Your Interiors Stand Out
Premier Properties in Letterkenny
21st November 2018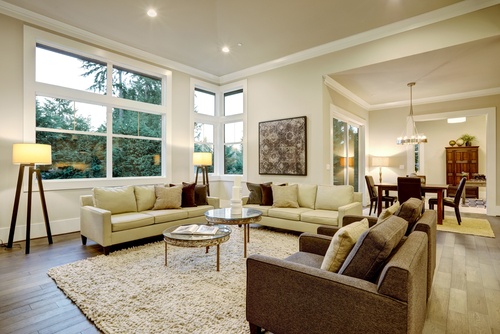 Selling your home can be nerve wrecking...
With the property sales market on the way back up it is more important than ever to prepare your home before you put it on the market so that it attracts the right buyer and the maximum price. Here are a few tips…
CLEAN LIKE YOU HAVE NEVER CLEANED BEFORE:
This is definitely not the time for dirt, dust and grime. From bottom to top, the house needs to be spotless. From sinks to bathtubs, windows to doorknobs, attic to basement, make it immaculate. If you have to bring in a professional cleaning crew to give your home a serious scrub-down, do it.
LESS IS MORE:
It is a good idea to consider removing some furniture in rooms to open up more space. Buyers want to get a good feel for the layout and space within the house. Also clear countertops, shelves and corners of appliances and miscellaneous knick-knacks and clutter, to create an open, clean look.
CLUTTERED CLOSETS AND OTHER STORAGE SPACES:
Basements, garages and closets jam-packed with several years worth of old stuff are a big turn-off to buyers. Clean them out and rent storage space if necessary. Again, buyers expect access to the house and all the spaces within.
MINIMIZE CLUTTER IN DRAWERS, PANTRIES, & CABINETS:
The same is true for these spaces. Buyers like to look everywhere!
INTERIOR PAINTING:
A new coat of paint on walls and ceilings goes a long way, especially if you need to cover old dings or stains or perhaps get rid of color schemes that are outdated or simply too "loud" for the average buyer. Use neutral, muted colors.
BATHROOMS:
Must be squeaky clean, sparkling and free of rust, mold and stains. New fixtures are a plus. Re-caulking tubs and showers is a good idea, as well as re-grouting tiles, especially if mold and dirt has built up.
EXTERIOR CLEANING:
Pressure-wash stains off the driveway and sidewalk. Wash the windows
STAGING:
Think of this as dressing up your home. It is the process of tastefully arranging furniture, decor and accent pieces to create a warm, inviting look. Think in terms of a window display at a department store. It is more art than science but with an eye on impressing the buyer.
For a no obligation appraisal of your property feel free to contact us on 074 91 25238 or email- info@premier-properties.ie